MTG Arena – Streets of New Capenna -Standard B01 Golgari with Daemogoth Titan and Titan of Industry
It's the same old and new Golgari Demon Deck … now with Titan of Industry and a bit of ramp… Transform your monsters into pests and surprise your opponents … go on … just do it…
Deck Build
15 Creatures
4x – Shambling Ghast
4x – Prosperous Innkeeper
2x – Blex, Vexing Pest
3x – Daemogoth Titan
2x – Titan of Industry
20 Non-Creatures
3x – Deadly Dispute
3x – Tend the Pests
2x – Plumb the Forbidden
1x – Lolth, Spider Queen
2x – Binding the Old Gods
3x – The Meathook Massacre
2x – Blood on the Snow
2x – Culling Ritual
2x – Path of Peril
25 Lands
1x – Bala Ged Recovery
4x – Darkbore Pathway
1x – Malakir Rebirth
1x – Takenuma, Abandoned Mire
1x – Lair of the Hydra
5x – Snow-Covered Swamp
5x – Snow-Covered Forest
1x – Hive of the Eye Tyrant
2x- Field of Ruin
4x – Deathcap Glade
---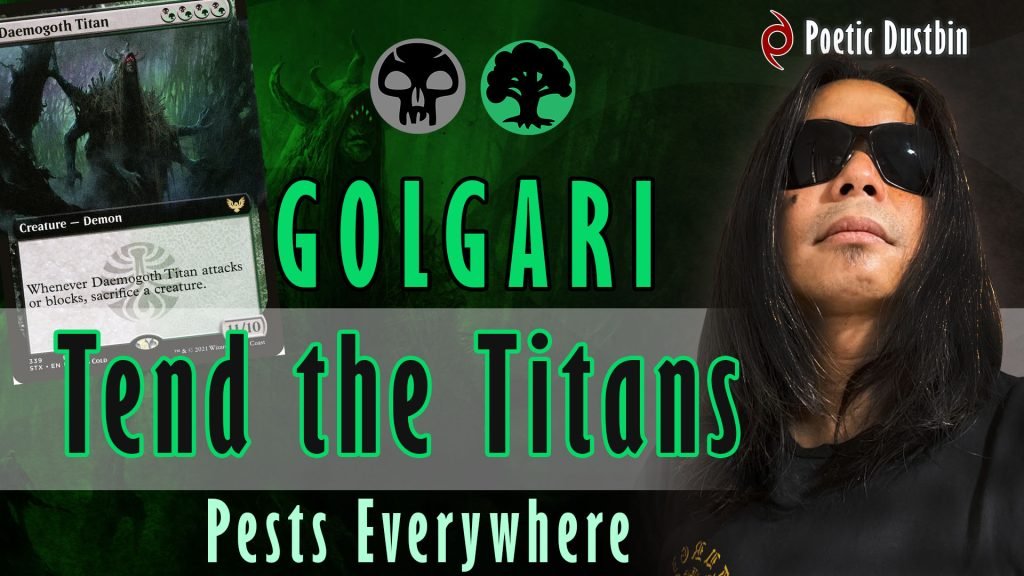 Aetherhub Decklist : https://aetherhub.com/Deck/golgari–standard-tend-the-titans
Support my Channel and share this video
https://youtu.be/Gd-kLj5I4yA
Here are Other MTG Arena Game Play Videos, Check 'em out.
MTG Arena – Standard Neon Dynasty Izzet Mill Smith with Ruined Crab, Tasha and Invoke Calamity
https://youtu.be/zaWiZRLTTtY
MTG Arena – New Capenna – Esper Control Deck with Queza Augur of Agonies and Even the Score
https://youtu.be/5D4aLdiFGVw
---
Follow me at
Instagram : @poeticdustbin
Twitter : @gothknight
Facebook : @mtgarenagameplays
Visit my website
https://poeticdustbin.com
My MTG Arena Website
https://mtgarena.org
My Biz Channel
https://xdcweb.com
If you're into Food ..
visit my honey's webby at:
https://houseofhazelknots.com
follow her in FB and Instagram:
@houseofhazelknots
Art Commissions?
visit my daughter's site:
https://mysque.com
---
Comment below for deck suggestions or other decks you want me to feature. Thank you!
#mtgarena #magicthegathering #rakdosobnixilis